Low Price White Heels, White Heels On Sale, And Ways To Re-Vamp Old White Shoes
White heels are very popular, they are always nice to have in the closet,and are suitable for a whole host of occasions and outfits because they look great with all other colors.
The cheap white heels on this page are stylish, beautiful, and of course very inexpensive. I have split the shoes into styles, and am always on the hunt for more cheap white heels to add, I hope you enjoy what I have found so far.


Gorgeous White Pumps With Rhinestone Detail
These cheap white heels look pretty expensive to me, these are ideal for formal occasions, and what a great low priced wedding shoe! I love the white satin fabric and the blinging rhinestone details on the straps of the shoes.
They have quite a low heel height, so are great for anyone who is looking for a fancy pair of low heel formal shoes.
Cheap White Pumps
This selection of white pumps are some of the cutest and cheapest around, white pumps look fab with daytime and party clothes and are a nice fresh look for summer.
Pumps are so very versatile and can be used in a day-to-night situation very well. In the day they look good with anything, especially jeans, leggings, and casual clothing, and at night they will come into their own, bringing freshness and life to almost any party outfit.
Jazz-Up Plain White Pumps - Make Pin-up Shoes Out Of A Pair Of Plain White Pumps
This video tutorial shows how you can take a pair of plain white pumps and transform them into pin-up style shoes. Add heart motifs and a ribbon detail and the shoes are done. It's really easy to do, and even if you can't draw a heart you can use a template or stencil.
And of course you could just get the basic instructions, then draw whatever you like onto the shoes, cool geometric patterns, stars, tattoo designs, anything you can draw onto a pair of shoes!
Gorgeous White Rose Pumps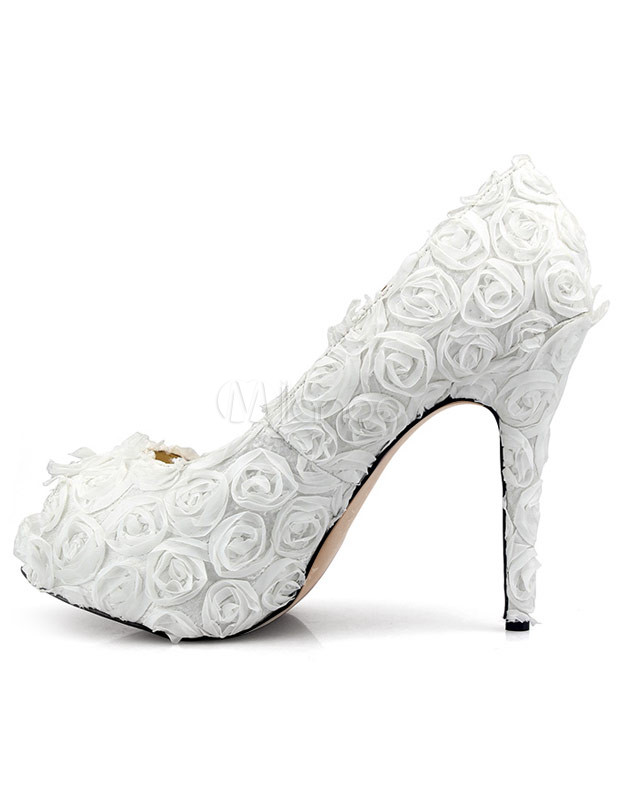 I like the cute little roses on this white pump,which are another great pair of cheap white heels for prom or parties, they would also be a lovely shoe for a bride to wear with a wedding dress.
They are very low priced beautiful pair of pumps, with a tall 4.7inch heel, and cloth upper.




Classy White Heels That Come Cheap!
I chose to feature these two pairs of shoes because I like the smart, clean, look of them. Shoes like this would be a nice option for work, particularly is you work in an office or other environment, where you need to look smart.
The first pair of shoes has a shining gold toe, which makes it look quite expensive, and a bit like angel shoes. (If angels wore shoes of course :)
The pointed toe is the best sort of shoe to have if you are wearing a long dress and still want the shoe to be seen. The point of the toe will peep out nicely from most long dresses.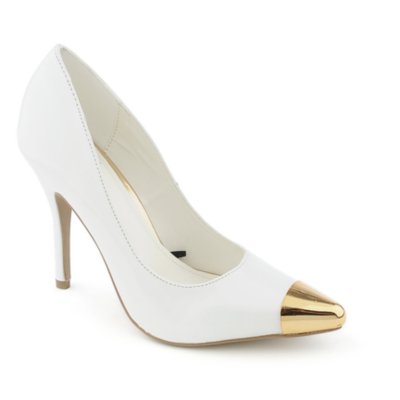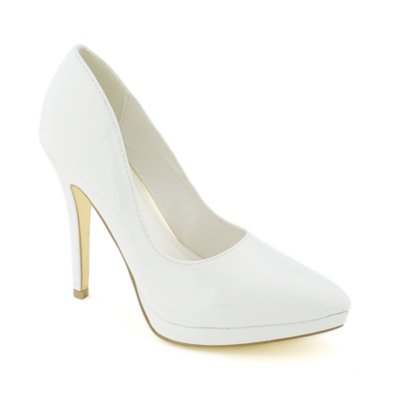 Cool White Gold And Black Pumps
These bargain white shoes, have contrasting gold and black details. They would be nice shoes for the office or a working environment, and the sheepskin fabric that they are made from, is hard wearing, so these heels should get a lot of wear.
The heel is a very high 4.7 inches, so perhaps not for those who walk to work!




Make White Pumps With Capped Toe - Two types of D.I.Y cap-toe shoe tutorials
I love the effect of the capped toe shoes in the first fab tutorial. They have a marbled effect which is in gold and pink, and looks really awesome!
This is a nice way to up-cycle boring or old shoes, a capped-toe is quiet a smart look, whatever color the toe is, and can be a fun way to rejuvinate work or office shoes.
Cheap White Open Toe Pumps
White open toe pumps are one of my favorite types of shoe to wear with jeans, they also look great with shorts, skirts, and just about anything. - In-fact they are versatile enough to make a great evening and party shoe too, just avoid wearing in the rain unless you want muddy spots all over them!
Open Toe White Pumps With Rhinestone Details
Nice low priced prom or wedding shoes...
I really like the heart rhinestone details on the side of these white open toe pumps, I think these shoes would be nice for a bride, and are a pretty but low priced wedding shoe option.They are made from PU leather and have a suede effect, with a 4.5 inch heel height.
How To Mod Podge Your Shoes
You can add anything you like to your white heels, decoupage, sequins, glitter, crystals, the only limit is your imagination and budget.
This video shows the basics of using mod podge to decorate shoes and gives so cool ideas too. I like the pattern heel shoes, neat idea and easy to achieve with a bit of patterned tissue paper or gift wrap.
Cheap White Peep Toe Slingback Pumps - A nice low-price pair of shoes for a holiday.....
This selection of pretty white sling back pumps are great for hot and hazy days, whether that be out shopping, our lounging in style by the pool. The open toe front gives this type of shoe a very feminine look, they would look awesome with some bright and contrasting nail varnish.
Sling backs are a nice shoe to wear if you like to wear heels by the pool or sunbathing, the sling-back heel looks flattering with a swimsuit or bikini, and even a slight will heel make legs look longer and leaner.
Cheap White Sandals
White sandals are a classic shoe for summer, they look good with nautical themed clothing, and look really great against tan skin. White sandals go with loads of different outfits, and are a must have for your summer wardrobe.
As well as wearing with a summer wardrobe white sandals are ideal for proms and other formal gatherings. They go well with all other colors, and are a classic shoe choice for a wedding.