I have to admit to being a big fan of cute and sexy Halloween costumes, if only we lived in a world where it was acceptable to dress like this all the time... I so would! Just imagine, you could be a different character every day. I would be really annoying and go round acting just like my character, saluting people with a shit eating grin for example, like the pin-up sailor featured (somewhere below)
It's been fun picking out these sexy Halloween costumes, I am looking for ideas for myself early this Halloween, and have half decided what I am going to wear, have you? I am hoping to get my outfit sorted by September and then I don't have to worry about the costume I want being out of stock. (which is what happened last year, grrrrr!)
Pretty Peacock Costume
I love peacock feathers, and this costume has real ones incorporated in the design, unlike many of the other designs that I have seen.
This is my favorite peacock costume of them all because of the real feathers, this particular sexy peacock costume comes with the c

orset, skirt, tail, choker, and headpiece. The stockings and shoes are not included. The skirt of this costume is very short, so be warned ;)
There are some great peacock shoe options, the first is this pair of peacock feather pumps with concealed platform sole. The second are a lovely pair of heels with real peacock feathers, and the third are these fantastic peacock feather shoe clips, which can be used to jazz-up a plain pair of shoes.



If you are feeling crafty more peacock feathers could be added to the costume and headpiece.



Sexy Sailor Pin-Up Costume
I like the blue and gold color scheme of this sexy Halloween costume. I was going to stay away from stereotypical sexy costumes, but I am a sucker for a bit of sailor themed attire!

With this sexy sailor costume you get the dress, the hat, and a shrug, which you can see in more detail if you click on the picture. I like the shoes that the model is wearing, the gold sandals and I have found some that match closely here. I have also found some awesome sailor pin-up style pumps here. These would match the costume color very well and the pin-up theme.
Parisian Showgirl Costume
I love the pink stripes on this sexy showgirl costume. The skirt is longer than most of the other costumes featured here, but it is by no means less sexy!

The costume comes with the hat, dress, mini skirt, sleeves, and gloves. You will need to get shoes, stockings, and some sort of showgirl prop, like a cane, a feathery fan would be great too.

Her shoes are a little boring IMO, they could be a bit more showy, or a bit more 'historic' looking, showgirls used to wear these lace up boots which are a bit plain. I would also suggest some brighter boots with pink accents to go with the showgirl costume.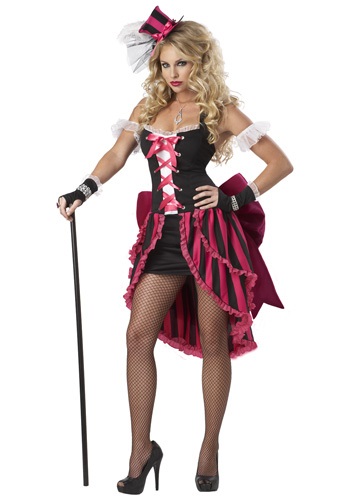 Marie Antoinette Costume
I dressed in this sexy Marie Antoinette costume two years ago, and it was one of my favorite costumes ever! I got so many compliments when I went out that night that I wanted to wear it forever :)
The costume includes the pink Marie Antoinette dress, petticoat, bustle bow, and feathered hat. I wore mine with a Marie Antoinette wig, and these really cute old fashioned looking heels.
Sexy Bunny Costume
Sexy Bunny Costume
This tuxedo bunny costume is quite interesting as far as sexy bunny costumes go. It has a longer skirt at the back, which is nice, as it protects ones modesty as well as being flirty and sexy.
The costume comes with the gloves, corset top with tux detail, and tails at the back, tiered skirt, and bunny ears. There is a bunny tail on the back of the skirt. To view the back of the costume please click on the picture.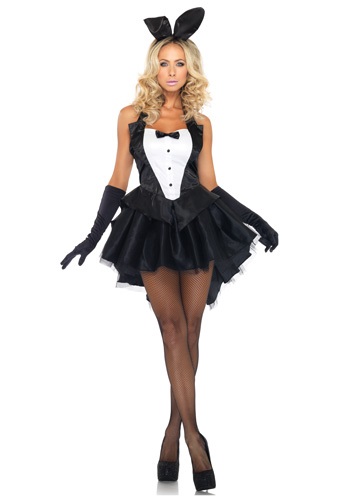 Paratrooper/Army Girl Catsuit Costume
This lady looks like she means business, so watch out party goers!
This is such a cool costume and another that I would like to go about in all the time! I love the catsuit style of this sexy army girl costume. Being a paratrooper costume it is different from the other army girl costumes which usually consist of a skirt or dress. This one comes with the chamo jumpsuit and parachute harness, the boots are sold separately.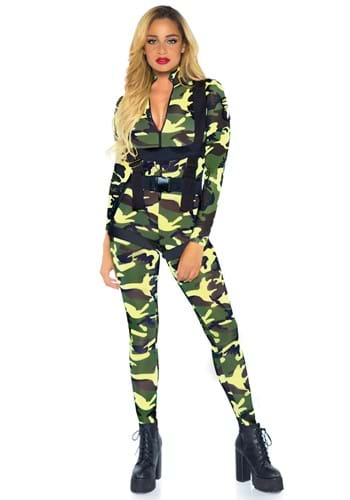 Mad Hatter Womens Costume
Mad hatter lady certainly looks colorful and sexy! If you are looking for a unique but sexy Halloween costume then this one is perfect. There are so many reasons why I love this ladies mad hatter costume; the purple and blue color scheme evokes madness, whilst somehow working together, the harlequin patterns look fun and funky- a real stand-out-from-the-crowd costume, and of course... I love the hat!
This mad hatters costume is sexy and sassy at the same time. It is quite unusual and will certainly be a talking point. The costume comes with the hat, dress, and arm bands. I have found some harlequin pattern high heels which IMO are the perfect shoes to match this sexy Halloween costume, I have also found some very cute tea cup pattern stockings, perfect for a mad hatters tea party.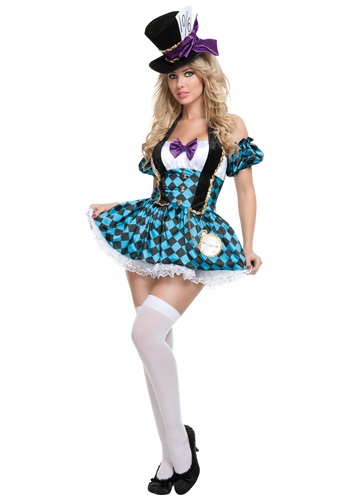 Female Ringleader Costume
Roll up, roll up, see the worlds sexiest ringleader crack her whip and send all the men running! This sexy ringleader costume is slick and smart. I am loving the red, black, and gold color scheme, and the cute little details (like the gold braiding) which make this costume look amazing.
The costume comes with the hat, waistcoat, skirt, bow-tie. It does not come with the whip thingy, stockings or shoes. I have found a whip here, I like these red and black striped stockings, and these smart black heels which I think would compliment this ringleader costume well.
Perfect Pink Flamingo Costume
Ha ha, I was just thinking this costume would not be so sexy if the model was made to wear a flamingo beak too! It would be horrific! Anyhoo' sans beak, the costume is great in so many ways... It's bright pink for a start! Secondly it is covered in sequins, has a large pink hair feather, and a cool feather boa flamingo 'tail'
Shoes to match this sexy flamingo costume would have to be bright pink and blinging. I have found some pink sequin heels here that are ideal!

Sexy Poison Ivy Costume
This sexy poison ivy costume is a lot of fun, it could be re-used as an elf, or fairy costume too, with just a few different accessories. You get the dress, sleeves, ivy detailing, and hair accessory. The stockings and shoes are separate.
I have found these cool ombre tights in a muted green that would look great. It's taken me a while to find shoes to compliment the green color in the costume but I think these are perfect, black and gold leaf detail sandals. These black pumps with leaf detail would also be ideal.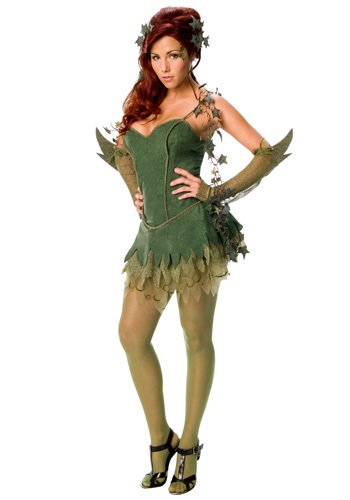 ---------------------------------------------------------------------------------------------------------------------